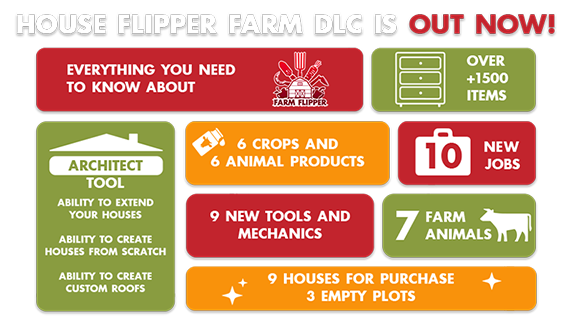 10 unique story orders!

9 farm properties in a unique environment!

3 empty plots for you to build on!

7 exciting mechanics, including the possibility of building extensions of your house!

Over 1500 farm-themed items!

Farm animals such as cows, sheep, chickens, and more!

Crop plants that you need to take care of!
Experience fresh farm vibes, thanks to the latest addition to the House Flipper family.
Let your surroundings be filled with the sounds of the life of your animal companions!
Build homesteads and look after swine, sheep, chickens, and more!
Your very own farming adventure begins now!
Wouldn't an extra room in your perfectly designed house be a handy addition?
Do you dream of a garage for your brand new car?
It's now all possible, thanks to the Farm DLC
A revolutionary house extension mechanic will forever change your everyday renovations.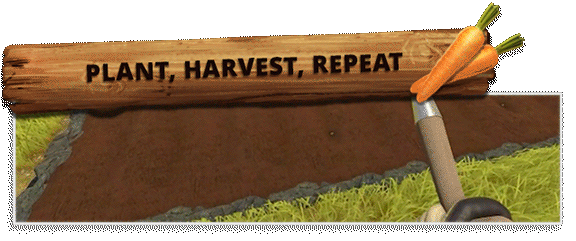 Hungry? It's thyme for dinner! Lettuce celebrate!
No matter what you plant, you better take care of creating the right conditions for your vegetation!
A selection of unique tools and a set of farming skills will help you with that!
Prepare the soil, spare no water, and you shall be harvesting plentiful crops in a blink of an eye!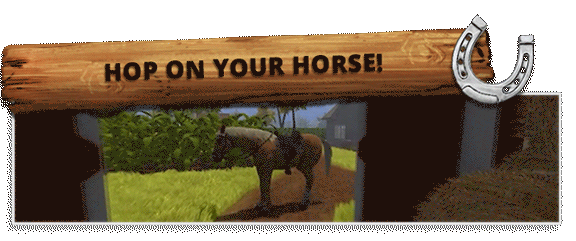 Keeping your farm in check is not just a responsibility, but also a pleasure!
Whistle for your favorite steed, hop in the saddle, and go for a ride around your land.
Keep in mind that this is just the beginning of your adventure, farmer.
Maplebloom Village awaits you!
System requirements
Minimum
OS: Windows 7 (64-bit) or newer
Processor: Intel Core i5-8400 / AMD Ryzen 3 3300X
Memory: 12 GB RAM
Graphics: GeForce GTX 1060 3GB / AMD Radeon RX 570 4GB
DirectX: Version 11
Storage: 20 GB available space
Recommended
OS: Windows 10 64bit
Processor: Intel Core i7-8700k / AMD Ryzen 5 2600
Memory: 16 GB RAM
Graphics: GeForce GTX 1080Ti / AMD Radeon RX 5700 XT
DirectX: Version 11
Storage: 20 GB available space